From 27 to 30 September – the gateway to Finale to experience first-hand a region created by nature for all outdoor activities.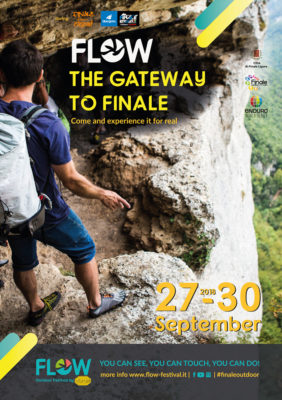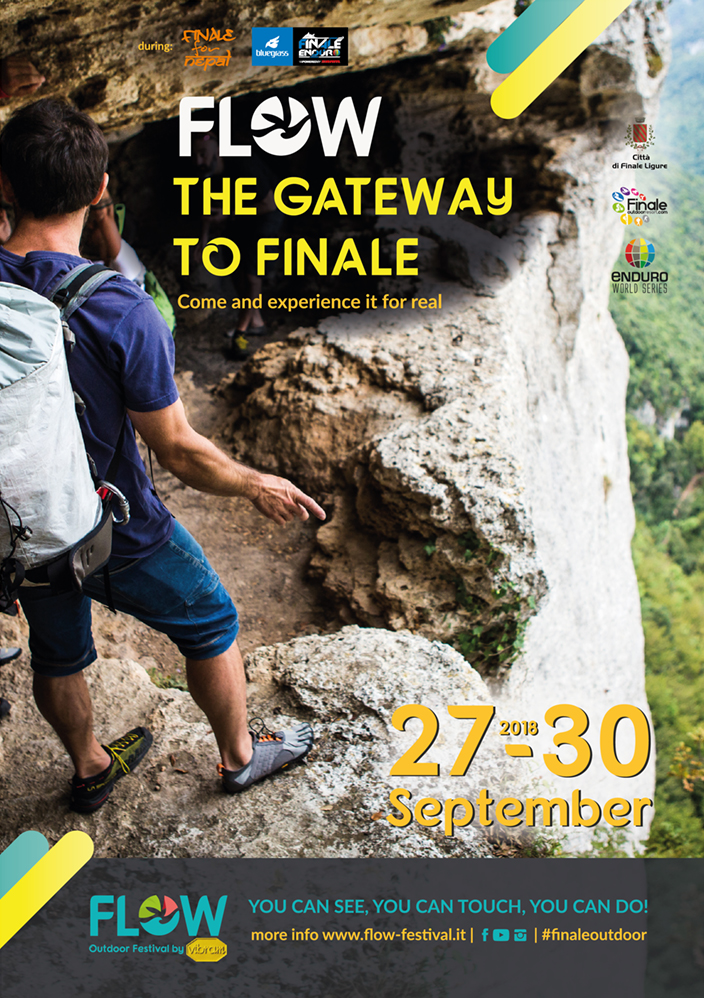 Are you a bike enthusiast intrigued by cave exploration? Are you passionate about running but feel the lure of SUP boarding? Are you keen on seaside action but crazy about adventuring into the countryside? Whether you are a sport junkie or an outdoor enthusiast, there is only one place that makes the potential of a region, naturally dedicated to all types of outdoor activities, a reality. This place is Finale Ligure.
FLOW OUTDOOR FESTIVAL by VIBRAM will give you access to the whole region surrounding Finale and the best chance of experiencing first-hand all it has on offer. Between 27 and 30 September, Finale will play host to four days of activities, tours, contests and talks involving athletes, enthusiasts, industry professionals and the general public, in a natural theatre that stretches from the countryside inland, with its pristine vegetation, to the vastness of the sea.
During the first edition, in 2017, the Outdoor Festival of Finale recorded attendance figures in the order of 25000 visitors, and more than 1100 athletes, getting a clear thumbs up and making all those present realize what an extraordinary adventure that was. The energy amongst participants, memories, first-hand accounts and emotions, are well outlined in a 2017 video report that goes back to some of the most spectacular moments of that edition.
FLOW by VIBRAM is back with a new edition that will take place in conjunction with two main events, so to make even more special the atmosphere you will enjoy in Finale Ligure between 27 and 30 September. On the one hand, the social commitment of Finale For Nepal, now in its ninth edition, an unmissable event for all outdoor and rock climbing enthusiasts: every year they meet in Finalborgo to give their own contribution to all charity activities carried out by 'Finale for Nepal', a Voluntary Association in favour of Nepal's population through a number of projects. On the other hand, the sport commitment of the competition universe, with the Enduro World Series Grand Finale. Two major events that will bring to Finale Ligure all climbing and mountain-biking big names, together with the public that will meet and cheer them. New for this edition of FLOW by VIBRAM, the EWS Challenger, the event dedicated to all MTB enthusiasts who fancy riding some of the trails also used for FinalEnduro, in a non-competitive ride open to everyone, to practice their sport and have a good time.
FLOW by VIBRAM already promises to be an unmissable event. From 27 to 30 September Finale welcomes you to experience all it has on offer, a region created by nature for all outdoor activities. In addition, an expo area will be set-up in Finalmarina and Finalborgo, dedicated to all partners and sponsors. Amongst them Vibram that, starting this year, is the official partner of the event, and a number of leading industry names that, in close contact with operators and visitors, will offer the opportunity to test new gear, introducing their brands and latest products.
You can't miss it, FLOW by VIBRAM is awaiting you too.